About us
In our workshop we take care of the big pains and little aches of guitarists and bassists.
Repair and modifications of tube amplifiers are our core competency, but Captain's Crew also expertly services all kind of guitars.
We also build Captain Amps, Captain Guitars and Captain Floorboards, mostly to customer specifications. Custom Made, as we say in upper Bavaria.
Buying and selling of second hand and vintage equipment completes the feel-good package.
In our 2nd hand shop you will find everything from beginner instruments to boutique amps and custom shop guitars to real vintage beauties.
Of course, the instruments can be extensively tested with us in the lounge.
And if you can't or don't want to worry about selling your unused equipment, we're happy to help with our Captain Sale Service!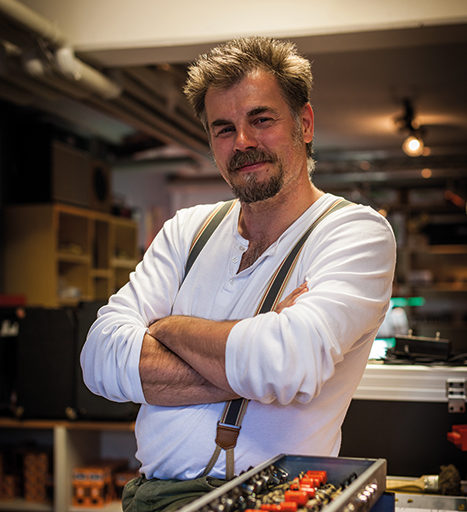 About the Captain
I've been playing guitar for almost 40 years now, mostly electric. But I've always been most fascinated by the other end of the sound chain: tube amplifiers.
As with most people, it started with an old tube radio, into which I installed a jack socket for the guitar.
Back in my school band days, I modded a classmate's VOX AC30 (what a lucky guy) to get more distortion. Much to my parents' chagrin. Because the beast was loud as hell and my workshop in my parents' attic. The sound check was heard by my mother as she was leaving the supermarket about 5km away, which is why an internal family noise protection decree immediately came into effect.
During the training as a radio electronics engineer at Rohde&Schwarz, the first real tube amplifier was built, the Bread Box 37, a top unit with 37 watts from two EL34s and an original Marshall output transformer, ordered at that time from Zitrone Music in Munich. A combo project was then not completed due to starting a family and attending technician school.
For weight reasons I then played a Roland GP1000 for a while, until one day an old Fender amp turned up in my brother-in-law's basement. With this 73 Vibrolux Reverb the old love flared up again and since then this hobby took on bigger and bigger traits. At some point the onslaught of friends with broken amps was too much and so in January 2010 the hobby became a sideline and Captain Körg Tube Amp Service was born.
Three years later, the work could no longer be done alone and the garage at home was simply too small. But even the premises in Olching were soon bursting at the seams and so we moved into the Captain Guitar Lounge in Emmering in August 2018.
… and his Crew
Picture: Fred, Tobi, Anselm und the Captain (from right to left)
Fred, Tobi and Heinz take care of buying and selling
Anselm and Flo about the amplifiers
Ulf and Peter about the guitars
Your way to good sound
The Captain Guitar Lounge is located in the triangle between Munich, Augsburg and Landsberg in the beautiful Free State of Bavaria, which, by the way, is always worth a trip!
Address:
Captain® Guitar Lounge
Moosfeldstr. 17
82275 Emmering
Attention:
At the top of Moosfeldstraße please turn LEFT! Most GPS do not know the new building area yet.
Get here by public transportation
With the S4 from Munich
Direction Geltendorf to station Eichenau
Timetable S4
MVV Live-Map

862
863


Then take bus 862 or 863 one stop to Emmering Moosfeldstraße
And another 3 minutes to walk up Moosfeldstraße, turn left at the top, and there you are!
By the beginning of each month, we send out a newsletter with all the latest news and events, with the centrefold and all the new additions to the shop.
In the middle of the month, all subscribers receive the exclusive Gems & Bargains newsletter with the latest new arrivals and special offers.
Captain Guitar Lounge Newsletter